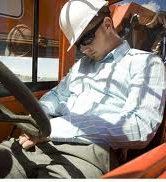 "On Sunday, March 11, the beginning of daylight savings time, clocks will move forward an hour and everyone can enjoy additional sunlight at the end of the day.  Unfortunately, this change also means that many sleep schedules will be affected – which can have health and safety consequences," reports EHS Today in an article on National Sleep Awareness Week which started three days ago on Mar 5.  We would have called attention to this earlier but we fell asleep on the job!  The article goes on to report how sleep deprivation affects the transportation industry: "nearly one-fourth of pilots and train operators admit that their performance is affected at least once a week by sleepiness. Moreover, one in five pilots acknowledge a serious error, and one in six train operators and truck drivers say that sleepiness has led to a near miss."
Full article available here.
Eric Svendsen, Ph.D., is Principal and lead change agent for safetyBUILT-IN, a safety-leadership learning and development organization. He has over 20 years experience in creating and executing outcomes-based leadership development and culture change initiatives aligned to organizational goals, and he personally led the safety-culture initiatives of a number of client organizations that resulted in "best ever safety performance" years for those companies.
Latest posts by Eric Svendsen (see all)