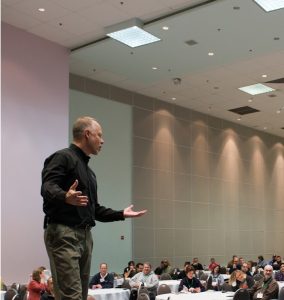 Over the past couple of months we've been occupied with a whirlwind tour of training events, including both public conferences and private corporate events. We're finally back and gearing up for more events next month. Two of those events were conferences we announced beforehand.
The OSC-16 (Ohio Safety Congress and Expo), one of the largest regional conferences and expos in the country, was held in Columbus in March and was by all accounts a smashing success. It drew close to 8,000 participants, which exceeded last year's attendance. safetyBUILT-IN manned a booth at the Expo and conducted one of the full-day post-conference sessions.
We met and interacted with many of the attendees at the Expo. The SBI booth had long lines of participants wanting to try their hand at the SBI "Wheel of Fortune." Lots of winners walked away with e-books, video libraries, ball caps, coffee mugs and safety-meeting clipboards.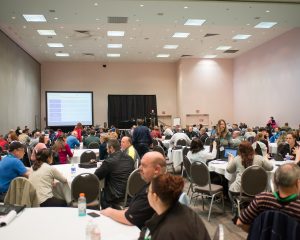 The post-conference session drew a couple hundred safety professionals, managers, directors and VPs who learned how to transfer ownership of safety to the front lines, build employee engagement, lead them situationally, and coach safety-culture improvements. We're still waiting to see the attendee evaluations, but all the exit polls indicate attendees walked away with a valuable experience and a new set of skills!
The second event was the BLR Safety Summit held in April in Austin Texas. safetyBUILT-IN conducted a pre-conference session that was was shorter in length (three hours instead of a full day), interactive, and targeted to a smaller group of attendees. The session was focused on strengthening the safety culture by raising levels of employee engagement. Attendees learned how to get the front line to internalize safety as a core value, and how to instill in them a sense of  ownership for safety.  Session surveys indicate that attendees had lots of takeaways from the workshop!
Our thanks go out to the hard-working coordinators of each of these conferences for all their help during the process and for helping to make each event a success!
safetyBUILT-IN is the safety-leadership learning and development division of SCInc.We believe sustainable safety performance is best achieved through a core-values based safety culture, and that culture must be driven by leadership.Our safety-leadership programs are competency-based, and focused on performance outcomes.We believe in building capability and ownership into our client organizations—as well as sustainability into our programs—so that our clients can continue running those programs long after we're out of the picture. Our emphasis is on building better leadership presence, better leadership communication and better leadership coaching by first building relationships of trust with people and learning how to engage them on the level of their core values and beliefs.