"One of the nation's leading safety leadership and development companies has developed safety leadership training in one of the world's most widely-used languages. "
(Denver, Colo., Oct. 29, 2014) — Representatives with safetyBUILT-IN announced today that its safety leadership training is now available in Spanish.
"We have had many requests in the past to make our safety leadership training available in Spanish, so we are thrilled to have that finally come to fruition," said Eric Svendsen, Ph.D., Principal of safetyBUILT-IN. "We've already taken several groups through the Spanish version of the training, and the reviews have been overwhelming and unanimously positive."
More specifically, the Spanish language version of its best-selling, wildly popular safety leadership training workshop, "From Compliance to Culture" is now available. The Spanish-version workshop is titled "De Cumplimiento a Cultura: Programa de Liderazgo en Seguridad."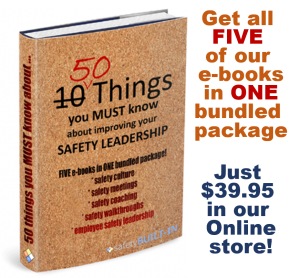 safetyBUILT-IN is a safety-leadership learning and development company that believes sustainable safety performance is best achieved through a safety culture based on core values, and that safety culture must be driven by leadership.
As for the leadership training en Espanol, Svendsen invited interested parties to visit the Spanish workshop page.
As for how others rate the leadership training, a Director of Environmental, Health and Safety gave it two thumbs up.
"A big thank you to the entire team for pulling this training off in such a meaningful way," the director said.
Likewise, a plant manager said,
"Excellent job with the Spanish Safety Leadership class last week. I heard from several associates today while I was on the floor about how good the class was. Everyone gave a thumbs up. Keep in mind this class went beyond team leaders and lead people – we included key floor operators, safety team members, and interested associates. Everyone got something out of the class and this is a major step forward in our safety journey. Thanks to you for all your efforts to prep for this first Spanish class, as well as your support to do the class in NY."
But they weren't the only ones to voice their appreciation for the leadership training.

A second Health and Safety Manager said,
"Just to let everyone know, the Spanish version of the class was a success. Thirty-three attendants, including our production manager, safety team members, leads and key machine operators. As usual, SBI hit the ball out the park. Because of SBI everybody kept engaged from the very beginning, and ended up very motivated."
For more information, please visit our safety-leadership training page.
###
 About safetyBUILT-IN
 safetyBUILT-IN is a safety-leadership learning and development company.
Our motto is that sustainable safety performance is achieved only through a strong safety culture, and a strong safety culture is achieved only through strong safety leadership.
We've consistently achieved up to a 40 percent reduction in recordable incidents and up to a 70 percent reduction in lost-time injuries for our clients in the first year of program implementation.
Source: safetyBUILT-IN
LIKE WHAT YOU SEE? Just complete the subscription form (below or top right of our home page) and we'll send each issue of Recordable INSIGHTS Newsletter to your inbox for free! Instructional videos, audio clips, articles, e-books, and other resources on how to better lead a safety culture delivered directly to your Inbox each issue!
NOTE: Please use a company domain to subscribe to the Recordable INSIGHTS newsletter. Hotmail, Yahoo, Live, and other generic domains may not allow subscription completion.
ALSO, be sure to check your Inbox for the Confirmation email after subscribing. You must click the Confirm button in that email to complete your subscription. Subscription requests that are not confirmed are purged from our system.
Loading...

Be sure to see our other Vlog (Video Blog) entries on our safetyBUILT-IN YouTube Channel
safetyBUILT-IN is the safety-leadership learning and development division of SCInc.We believe sustainable safety performance is best achieved through a core-values based safety culture, and that culture must be driven by leadership.Our safety-leadership programs are competency-based, and focused on performance outcomes.We believe in building capability and ownership into our client organizations—as well as sustainability into our programs—so that our clients can continue running those programs long after we're out of the picture. Our emphasis is on building better leadership presence, better leadership communication and better leadership coaching by first building relationships of trust with people and learning how to engage them on the level of their core values and beliefs.