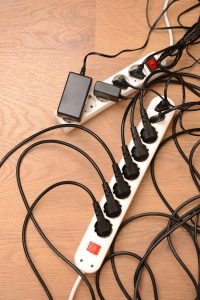 Tripping over extension cords is common. At home, it is part of the Christmas experience to trip over the extension cord that keeps the lights twinkling. At work, it is convenient to the person needing power to run a cord across a walkway, though not so convenient for unsuspecting co-workers.
As common as tripping is, so are the associated injuries. In fact, over 4,000 accidents are directly attributable to extension cords every year. Most are minor, though painful–like sprains, and cuts–but a number involve fractures. And fifty people every year are killed in extension cord fires and over 270 injured, usually caused by overloading and short circuits.
Handling extension cords with safety in mind can prevent most accidents and fires. Best practices for this are covered in many online health and safety training courses, but here are are some reminders.
What Types to Use
The best extension cords are easy to see, making bright orange one of the best colors. Dark cords blend in and are less of an eyesore in an office, but that very fact makes them more likely to trip over.
Extension cords need to match the job requirements. Be sure to buy one made specifically for outdoor use if that's where it will end up. The insulation on outdoor cords is much thicker than that on indoor cords, so it can handle temperature extremes, moisture, the rays of the sun and, in many cases, chemicals. An outdoor cord is fine to use inside an office, but never use an indoor cord out in the elements.
Know how much wattage you will be using. Extension cords are sold according to gauge, indicated by a number. The lower the number, the thicker the wire and the more current, or wattage, it can safely handle. The wattage rating is how many watts the cord can carry. Match the wattage rating with the demands of the tool or appliance you are plugging into it. If you are using one cord for several devices, be sure the combined wattage matches the rating of the cord.
Dos and Don'ts
Here are a few sensible tips, easily found in many online health and safety training courses, that will help you stay safe when you use an extension cord.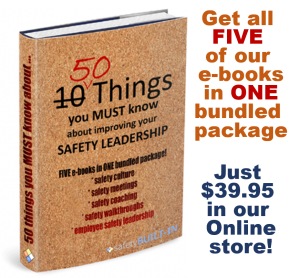 First, keep them out of pathways. If you must stretch one across a walkway, use a floor cord cover, preferably in a bright color.
To match the cord to the specific use, you need to know the wattage of the cord and what you're plugging into it. You can find out the wattage requirements of a tool or appliance by checking the specs on the tag around its power cord, looking at the documentation that came with it, calling the manufacturer or looking it up online.
All the information you need to know about the extension cord is on its label, including length, gauge, indoors or outdoors, and wattage. Always buy cords with the UL insignia, meaning they have been tested successfully by Underwriters Laboratories.
Never use a cord that is cut or that has exposed insulation. Throw it away. It can cause a fire or shock. If a cord gets hot, disconnect it and dump it. Store cords out of the elements, and unplug a cord when you're not using it.
Cords aren't made to be run above ceiling tiles and through walls, and don't put them under carpets. Keep them out of doorways and pathways.

When you disconnect the extension cord, pull it out by the plug, not by the cord. Use specially made angle extension cords if machinery or other items will be pushed against the spot where the plug and the cord join.
Be safe with extension cords. By taking a little extra time, and you can easily avoid making them a tripping or a fire hazard.
~Mary Hannick
---
LIKE WHAT YOU SEE? Just complete the subscription form (below or top right of our home page) and we'll send each issue of Recordable INSIGHTS Newsletter to your inbox for free! Instructional videos, audio clips, articles, e-books, and other resources on how to better lead a safety culture delivered directly to your Inbox each issue!
NOTE: Please use a company domain to subscribe to the Recordable INSIGHTS newsletter. Hotmail, Yahoo, Live, and other generic domains may not allow subscription completion.
ALSO, be sure to check your Inbox for the Confirmation email after subscribing. You must click the Confirm button in that email to complete your subscription. Subscription requests that are not confirmed are purged from our system.
Loading...

Be sure to see our other Vlog (Video Blog) entries on our safetyBUILT-IN YouTube Channel
safetyBUILT-IN is the safety-leadership learning and development division of SCInc.We believe sustainable safety performance is best achieved through a core-values based safety culture, and that culture must be driven by leadership.Our safety-leadership programs are competency-based, and focused on performance outcomes.We believe in building capability and ownership into our client organizations—as well as sustainability into our programs—so that our clients can continue running those programs long after we're out of the picture. Our emphasis is on building better leadership presence, better leadership communication and better leadership coaching by first building relationships of trust with people and learning how to engage them on the level of their core values and beliefs.