Children watching a big office building going up might see a construction site as a giant sandbox with adults at play. Danger happens when the workers get the same idea and engage in horseplay.
Practical jokes and roughhousing are natural among a group of workers, mostly men, doing a hard job together day after day. But it can create problems, like unintentional accidents and building resentment that invites retaliation in kind. Types of fooling around on a job site that creates trouble might include activity like chucking water, wrestling, air hosing, scaring, and other activities like that. Though in all cases you are bound to get a reaction, it may not be the one you had in mind.
Jokes can backfire, especially in a complex work environment like that found on a building site or a plant. Hazards are everywhere, which is why a safety mindset should be foremost in every health and safety plan.
What Can Go Wrong?
Running and chasing a co-worker can easily lead to someone tripping or falling. If you're trying to get away from a bucket of water being tossed at you, it is easy to miss obstacles or obstructions on the ground. Machinery on the site has moving parts which can cause injury if you run into them. If you knock over a container while trying to get away, the items stored inside can fall out, hurting someone.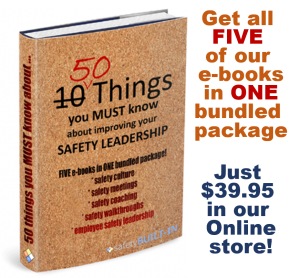 One commonly reported safety violation is throwing a tool at a co-worker. A device with a sharp edge flying through the air can easily cut and maim. If a person gets hit with a hammer or other heavy tool, injury is almost guaranteed. If it hits a person in the face, especially the eyes, the damage can be permanent. If a heavy tool misses its target and flies off the edge of a platform or building, the impact on the innocent bystander on the floors below can be horrendous.
Forklifts seem to invite horseplay. Driving it too fast, or standing on the forks and trying to do stunts with one can cause significant injury. Bystanders or passengers can easily get crushed or run over in the process.
The Goal of Safety
The instigator might see his action as minor, but if the object of the horseplay takes it personally, it could result in an altercation. In any case, engaging in horseplay misses the point of having a health and safety plan in the first place, which is to protect everyone on the job site and get them back home safely to their families at the end of each day.

Fortunately, most work sites these days frown upon horseplay and meet it with disciplinary action and a clear threat of termination. The short video below shows two workers in a warehouse wrestling among product. No one gets hurt in this case, but potential hazards are all around.
~Mary Hannick
Note: for viewers in Youtube-blocked countries, try using hola to access our videos
http://www.youtube.com/watch?v=VrS66uXx5nc?rel=0&hd=1
LIKE WHAT YOU SEE? Just complete the subscription form (below or top right of our home page) and we'll send each issue of Recordable INSIGHTS Newsletter to your inbox for free! Instructional videos, audio clips, articles, e-books, and other resources on how to better lead a safety culture delivered directly to your Inbox each issue!
NOTE: Please use a company domain to subscribe to the Recordable INSIGHTS newsletter. Hotmail, Yahoo, Live, and other generic domains may not allow subscription completion.
ALSO, be sure to check your Inbox for the Confirmation email after subscribing. You must click the Confirm button in that email to complete your subscription. Subscription requests that are not confirmed are purged from our system.
Loading...

Be sure to see our other Vlog (Video Blog) entries on our safetyBUILT-IN YouTube Channel
safetyBUILT-IN is the safety-leadership learning and development division of SCInc.We believe sustainable safety performance is best achieved through a core-values based safety culture, and that culture must be driven by leadership.Our safety-leadership programs are competency-based, and focused on performance outcomes.We believe in building capability and ownership into our client organizations—as well as sustainability into our programs—so that our clients can continue running those programs long after we're out of the picture. Our emphasis is on building better leadership presence, better leadership communication and better leadership coaching by first building relationships of trust with people and learning how to engage them on the level of their core values and beliefs.