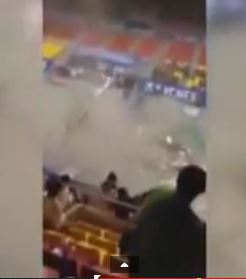 "Organisers of badminton's Vietnam Open rushed to set up a new venue on Wednesday and resume play for the shuttlers who had a narrow escape from a ceiling collapse at an indoor stadium," reports a Reuters news source.
Although no one was hurt, the players and spectators at the Phan Dinh Phung Sports Center in Ho Chi Mihn City were highly shaken up from the collapse, which was very possibly due to a faulty safety management plan for the stadium.
Fortunately for the players, they did have at least some warning as an alert referee noticed the ceiling moving just moments before the collapse.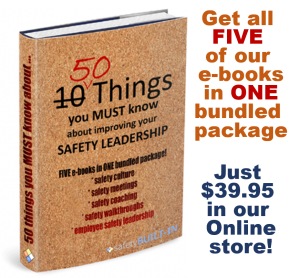 As mentioned, the incident seems directly related to a faulty safety management plan for the stadium.  The sports center, which is 30 years old, apparently eluded stringent safety inspections due to upcoming and scheduled renovations.
An investigation of the ceiling collapse is now underway. Here is video of the collapse from a spectator's smart phone.
Note: for viewers in Youtube-blocked countries, try using hola to access our videos.
LIKE WHAT YOU SEE? Just complete the subscription form (below or top right of our home page) and we'll send each issue of Recordable INSIGHTS Newsletter to your inbox for free! Instructional videos, audio clips, articles, e-books, and other resources on how to better lead a safety culture delivered directly to your Inbox each issue!
NOTE: Please use a company domain to subscribe to the Recordable INSIGHTS newsletter. Hotmail, Yahoo, Live, and other generic domains may not allow subscription completion.
ALSO, be sure to check your Inbox for the Confirmation email after subscribing. You must click the Confirm button in that email to complete your subscription. Subscription requests that are not confirmed are purged from our system.
Loading...

Be sure to see our other Vlog (Video Blog) entries on our safetyBUILT-IN YouTube Channel
safetyBUILT-IN is the safety-leadership learning and development division of SCInc.We believe sustainable safety performance is best achieved through a core-values based safety culture, and that culture must be driven by leadership.Our safety-leadership programs are competency-based, and focused on performance outcomes.We believe in building capability and ownership into our client organizations—as well as sustainability into our programs—so that our clients can continue running those programs long after we're out of the picture. Our emphasis is on building better leadership presence, better leadership communication and better leadership coaching by first building relationships of trust with people and learning how to engage them on the level of their core values and beliefs.