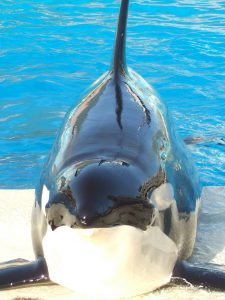 SeaWorld has a whale of a problem–literally. The problem comes in the form of a 12,000 pound killer whale named Tilikum. The U.S. Court of Appeals ended years of trainer contact with the huge mammals during shows, which often included trainers riding on the backs of the orcas.
Three Lost Lives
Tilikum has been linked to three fatal accidents. The April ruling dealt with the death of trainer Dawn Brancheau, who drowned during a show in 2010 at the Orlando, FL theme park after getting pulled under by Tilikum. The short video below has the details.
In 1991, while in Canada, the same whale pushed a trainer underwater after she fell into his pen. In 1999 a man was found in the whale's tank early in the morning, a victim of hypothermia. It was never established if the whale contributed to his death.
New Health and Safety Plan Regulations
OSHA has ruled that SeaWorld must either keep trainers a minimum number of feet from the whales during a performance or have them work behind barriers for safety.
A Labor Department spokesman said, "Killer whales pose a danger to employees who are not adequately protected." It's a statement that is hard to argue with, considering that the orca is 12,000 lbs. compared to the 100-200 lbs. of its trainers!
The Fallout
SeaWorld hasn't decided whether or not to appeal the decision. It has argued that OSHA, with its health and safety plan requirements, has gone too far. They fear the new rules will damage business. The company has likened the new orders to prohibiting blocks and tackles in football or imposing speed limits at NASCAR races.
One of the three panel of judges agreed with SeaWorld, saying that the limitations of trainer-whale contact are an example of the federal government intruding on sports and entertainment, calling it paternalistic.
The ruling pleased activists for animal rights, like People for the Ethical Treatment of Animals (PETA), who applauded the court's decision. They feel that trainers entertaining audiences by riding on the back of whales is demeaning to the animals, as well as unsafe for the trainers.

SeaWorld is also worried about an attempt by California lawmakers to make it illegal to keep the whales in captivity. This would have a major impact on one of the company's most popular parks, located in San Diego. The company owns a total of 11 parks around the country, including the one in Florida where the tragic accident happened in 2010.
Imagine the difficulty in developing a health and safety plan for this job.
The short video below recounts the events surrounding the death of Dawn Brancheau at SeaWorld in Orlando.
Note: for viewers in Youtube-blocked countries, try using hola to access our videos.
**************
LIKE WHAT YOU SEE? Just complete the subscription form (below or top right of our home page) and we'll send each issue of Recordable INSIGHTS Newsletter to your inbox for free! Instructional videos, audio clips, articles, e-books, and other resources on how to better lead a safety culture delivered directly to your Inbox each issue!
NOTE: Please use a company domain to subscribe to the Recordable INSIGHTS newsletter. Hotmail, Yahoo, Live, and other generic domains may not allow subscription completion.
ALSO, be sure to check your Inbox for the Confirmation email after subscribing. You must click the Confirm button in that email to complete your subscription. Subscription requests that are not confirmed are purged from our system.
Loading...

Be sure to see our other Vlog (Video Blog) entries on our safetyBUILT-IN YouTube Channel
safetyBUILT-IN is the safety-leadership learning and development division of SCInc.We believe sustainable safety performance is best achieved through a core-values based safety culture, and that culture must be driven by leadership.Our safety-leadership programs are competency-based, and focused on performance outcomes.We believe in building capability and ownership into our client organizations—as well as sustainability into our programs—so that our clients can continue running those programs long after we're out of the picture. Our emphasis is on building better leadership presence, better leadership communication and better leadership coaching by first building relationships of trust with people and learning how to engage them on the level of their core values and beliefs.