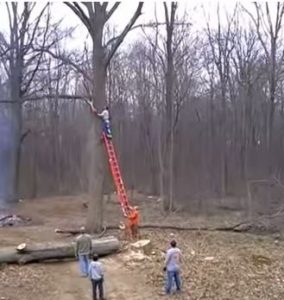 Another DIY chainsaw-wielding hero attempts to take down a tree limb, and (again) it doesn't turn out so well.
On the plus side, our tree-trimmer (1) has a spotter holding the ladder steady, and (2) demonstrates considerable care and concern for his coworkers who are standing below.  In fact, he goes out of his way to ensure their safety before he starts:
"Get outta there, guys; I don't wanna hit no one.  Is everybody good?"
Pretty good pre-job safety moment.  Too bad that wasn't followed by an equally good hazard hunt prior to the start of the work, because what happens next is a real problem.  If there had been a safety hazard hunt, focused on good catches, the work crew may have discovered the following:
Standing on too high a rung on the ladder (he appears to be on the top rung or perhaps the second rung from the top)
Standing below the limb that's being removed (that's a headache waiting to happen)
Not being tied off and wearing no fall protection equipment
Using only one hand to guide the chainsaw (I guess at least he's maintaining three points of contact)
Did I miss anything?
In any case, as the video below shows, the tree ends up fighting back, and that doesn't work out well for our tree trimmer.  Full video follows.
Note: for viewers in Youtube-blocked countries, try using hola to access our videos.
LIKE WHAT YOU SEE? Just complete the subscription form (below or top right of our home page) to sign up for our Recordable INSIGHTS Newsletter! Instructional videos, audio clips, articles, e-books, and other resources on how to better lead a safety culture delivered directly to your Inbox each issue!
NOTE: Please use a company domain to subscribe to the Recordable INSIGHTS newsletter. Hotmail, Yahoo, Live, and other generic domains may not allow subscription completion.
ALSO, be sure to check your Inbox for the Confirmation email after subscribing. You must click the Confirm button in that email to complete your subscription. Subscription requests that are not confirmed are purged from our system.
Loading...

Be sure to see our other Vlog (Video Blog) entries on our safetyBUILT-IN YouTube Channel
safetyBUILT-IN is the safety-leadership learning and development division of SCInc.We believe sustainable safety performance is best achieved through a core-values based safety culture, and that culture must be driven by leadership.Our safety-leadership programs are competency-based, and focused on performance outcomes.We believe in building capability and ownership into our client organizations—as well as sustainability into our programs—so that our clients can continue running those programs long after we're out of the picture. Our emphasis is on building better leadership presence, better leadership communication and better leadership coaching by first building relationships of trust with people and learning how to engage them on the level of their core values and beliefs.