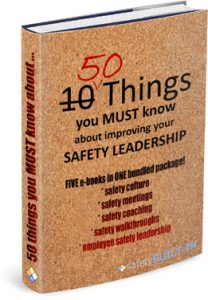 Our "10 Things" e-book series has been around for a few years now, and many of our readers have found them to be a great resource to supplement to their online health and safety leadership training.  Previously, our readers had to purchase and download each e-book separately, but we're now making them available in one bundled set at a reduced price!  The set contains all five of the titles you're already familiar with in our popular "10 Things" e-book series, including:
The price for each individual e-book is $9.95USD, but the bundled set goes for just $39.95USD–a 20% discount off the individual pricing!  You can find this new addition, as well as all of our other e-books in the series, at our online store.
LIKE WHAT YOU SEE?
Just complete the subscription form (below or top right of our home page) and we'll send each issue of the Recordable INSIGHTS Newsletter to your inbox for free! Instructional videos, audio clips, articles, e-books, and other resources on how to better lead a safety culture delivered directly to your Inbox each issue!

Loading...

Be sure to see our other Vlog (Video Blog) entries on our safetyBUILT-IN YouTube Channel!