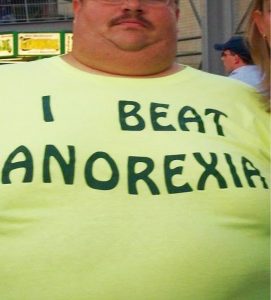 At last count, more than 35% of Americans were officially obese. When you factor in all of the people who are overweight — but not technically obese — the end result is that two-thirds of American adults weigh more than they should.
Unfortunately, that can translate into big problems for the safety culture you're trying to create in your company!
In fact, obesity was a heavily talked-about topic at Safety 2014, a conference that's held every year by the ASSE (American Society of Safety Engineers). Specifically, the group talked about the additional risks that obese workers face simply because of their size — like being more vulnerable to heat-related illnesses, being too heavy for traditional fall protection equipment, and having trouble physically fitting into confined spaces in their work environment.
The conference didn't just highlight problems, though. The group also talked about ways to create a safety culture that specifically addresses obese employees. For example, providing healthy snacks in the company break room was discussed as one simple way to help employees cut back on their caloric intake. Another proposed solution was to offer incentives for employees who exercise regularly.
Unfortunately, though, it is going to take more than a few quick fixes to solve the safety issues that apply specifically to obese workers because the risk they face is so severe. According to a recent study done by the Liberty Mutual Research Institute for Safety, obese employees are 25% more likely to get injured on the job — regardless of the kind of occupational hazards they face.
And, if your employees spend time driving while they're on the clock, they face an extra set of risks. A joint study done in 2012 by the University of California at Berkley and the University of West Virginia showed that obese drivers who have a body mass index (BMI) between 30 and 34.9 are 21% more likely to die in a car crash. Drivers with a BMI over 40 are 80% more likely to die out on the road.
Why?
A big part of the problem is seat belts. Obese drivers typically have problems with their seat belts — like being too small to fit properly or too small to be worn altogether. In fact, a study done at the University of Buffalo showed that the more a person weighed, the less likely he was to use his seat belt.
What can you do to make sure that your safety culture covers your obese employees, too?
You have to start by assessing your specific workplace conditions. For example, are workstations big enough? Does your protective equipment fit even the largest of employees? How hard will it be to rescue an obese employee if something goes wrong?
Until you answer these questions — and take steps to solve the problems you uncover — you won't truly have a culture of safety excellence!
Further Reading
What does the obesity epidemic mean for workplace safety?
Obese Drivers Face Higher Risks in Cars
LIKE WHAT YOU SEE?
Just complete the subscription form (below or top right of our home page) and we'll send each issue to your inbox for free! Instructional videos, audio clips, articles, e-books, and other resources on how to better lead a safety culture delivered directly to your Inbox each issue!

Loading...

Be sure to see our other Vlog (Video Blog) entries on our safetyBUILT-IN YouTube Channel!
safetyBUILT-IN is the safety-leadership learning and development division of SCInc.We believe sustainable safety performance is best achieved through a core-values based safety culture, and that culture must be driven by leadership.Our safety-leadership programs are competency-based, and focused on performance outcomes.We believe in building capability and ownership into our client organizations—as well as sustainability into our programs—so that our clients can continue running those programs long after we're out of the picture. Our emphasis is on building better leadership presence, better leadership communication and better leadership coaching by first building relationships of trust with people and learning how to engage them on the level of their core values and beliefs.