While the Recordable Insights Newsletter is still officially on sabbatical, I thought I'd at least pass along one item of interest.  Those of you who subscribe to ASSE's Professional Safety Journal may have noticed my article in the October issue.  The article, titled "Improve Your Safety Meetings: 5 Ways to Make Them More Engaging, Interactive & Meaningful," appears in the Best Practices section of the journal.
As you may recall, not long ago I finished a lengthy series on how to conduct a more effective and engaging safety meeting for our Recordable Insights Newsletter, and the more recent PSJ article captures the highlights from that series.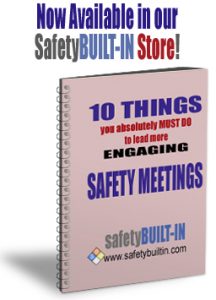 The article is part 1 of 2, so keep on the lookout for the second part.  For those of you who do not subscribe to the Professional Safety Journal, the article is available online at the ASSE PSJ website.  You can access the full article here.
We'll be resuming normal publishing and distribution of the Recordable Insights Newsletter in just a few weeks.  Stay tuned!
~ES
LIKE WHAT YOU SEE?
Just complete the subscription form (below or top right of our home page) and we'll send each issue to your inbox for free! Instructional videos, audio clips, articles, e-books, and other resources on how to better lead a safety culture delivered directly to your Inbox each issue!
Loading...

Be sure to see our other Vlog (Video Blog) entries on our safetyBUILT-IN YouTube Channel!
Eric Svendsen, Ph.D., is Principal and lead change agent for safetyBUILT-IN, a safety-leadership learning and development organization. He has over 20 years experience in creating and executing outcomes-based leadership development and culture change initiatives aligned to organizational goals, and he personally led the safety-culture initiatives of a number of client organizations that resulted in "best ever safety performance" years for those companies.
Latest posts by Eric Svendsen (see all)