In an earlier issue we discussed the importance of starting the development process and workplace training with the end game in mind, and there I suggested building and using a competency model to define the desired future state.  But keep in mind that the desired future state is not just about the future state of the development candidates.
It's also about the future state of the job itself.  What will candidates need to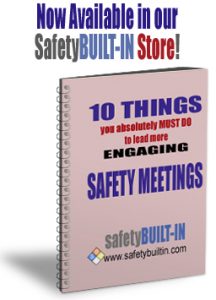 know and be able to do five years from now?  What new challenges will they face, and how are you planning for that in your development programs?
Competency development should never be just about the here and now, but should always be guided by future conditions and considerations.
Well, that's it for this edition of Recordable INSIGHTS. Until next time be sure all your safety initiatives are built in, not bolted on.
~ES
LIKE WHAT YOU SEE?
Just complete the subscription form (below or top right of our home page) and we'll send each issue to your inbox for free! Instructional videos, audio clips, articles, e-books, and other resources on how to better lead a safety culture delivered directly to your Inbox each issue!
Loading...

Be sure to see our other Vlog (Video Blog) entries on our safetyBUILT-IN YouTube Channel!
Eric Svendsen, Ph.D., is Principal and lead change agent for safetyBUILT-IN, a safety-leadership learning and development organization. He has over 20 years experience in creating and executing outcomes-based leadership development and culture change initiatives aligned to organizational goals, and he personally led the safety-culture initiatives of a number of client organizations that resulted in "best ever safety performance" years for those companies.
Latest posts by Eric Svendsen (see all)