One issue that keeps coming up in our series on adding competency development to every training program is the question of ownership.  Who's responsible for the employee's competency development after the training is completed?
Development is a team effort.  Different stages of an employee's development will typically require involvement from different human resources at different points.  It may begin with a safety specialist, training specialist or external trainer to do the training.  But ownership for the ongoing development belongs primarily to the employee and his supervisor.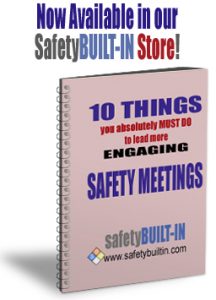 Now the supervisor may very well assign a qualified person (usually another employee who fills a similar role as the employee but at a senior level) to mentor that employee in the skills that are related to the training and necessary to perform the job.  But it's the supervisor who is ultimately responsible for validating that competency development has actually occurred, and indicating as much by signing off on the employee's performance exam at the end of the mentorship process.
In fact, requiring the supervisor to accompany the mentor during the performance exam goes a long way toward reinforcing the validity of the exam and ensuring the employee has undergone the same rigorous performance-testing process that's required of everyone else.

Primary ownership for ensuring completion of the development process has to reside with the employee's immediate supervisor.  No one else in the organization has the same span of control to ensure development happens.
Well, that's it for this edition of Recordable INSIGHTS.  Until next time be sure all your safety initiatives are built in, not bolted on.
~ES
LIKE WHAT YOU SEE?
Just complete the subscription form (below or top right of our home page) and we'll send each issue to your inbox for free! Instructional videos, audio clips, articles, e-books, and other resources on how to better lead a safety culture delivered directly to your Inbox each issue!
Loading...

Be sure to see our other Vlog (Video Blog) entries on our safetyBUILT-IN YouTube Channel!
Eric Svendsen, Ph.D., is Principal and lead change agent for safetyBUILT-IN, a safety-leadership learning and development organization. He has over 20 years experience in creating and executing outcomes-based leadership development and culture change initiatives aligned to organizational goals, and he personally led the safety-culture initiatives of a number of client organizations that resulted in "best ever safety performance" years for those companies.
Latest posts by Eric Svendsen (see all)