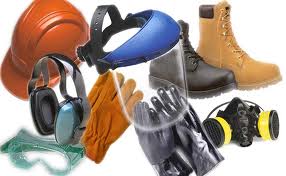 "Like the hazards encountered in the workplace, there is a variety of PPE available on the market that is intended to help protect all the parts of a worker's body," notes a recent article that appears in EHS Today.  "Trying to select multiple types of PPE that integrate together to protect workers can be a challenge.  Nowhere is this more challenging than selecting multiple types of PPE to be worn on a person's head."
The article's author, Scott Larson, goes on to note the various types of PPE for various types of work, suggests some selection criteria, and provides some general guidelines and considerations during the selection process for your protective gear.

While many of the article's points will be a foregone conclusion in organizations that have already undergone the selection process in a formalized way, the tips will be helpful to start-up companies and smaller companies that have no official selection criteria in place for the PPE they currently use.  Plus, it stands as a good refresher to those in established organizations that have acquired (or are acquiring) new operations with new work tasks that have new hazards and risks to consider.
The full article can be accessed here.
LIKE WHAT YOU SEE?
Just complete the subscription form (below or top right of our home page) and we'll send each issue to your inbox for free! Instructional videos, audio clips, articles, e-books, and other resources on how to better lead a safety culture delivered directly to your Inbox each issue!

Loading...

Eric Svendsen, Ph.D., is Principal and lead change agent for safetyBUILT-IN, a safety-leadership learning and development organization. He has over 20 years experience in creating and executing outcomes-based leadership development and culture change initiatives aligned to organizational goals, and he personally led the safety-culture initiatives of a number of client organizations that resulted in "best ever safety performance" years for those companies.
Latest posts by Eric Svendsen (see all)