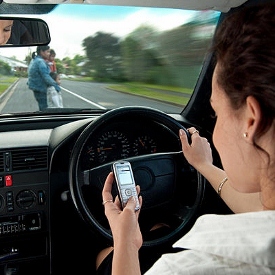 Many organizations already have a policy against cellphone usage for their employees driving company vehicles.  Now there's another reason not to use a cell phone while driving, whether it's in a company vehicle or not:
"A Massachusetts teen was convicted Wednesday of homicide as a result of texting while driving and will serve one year in prison," according to a CNN article released today.
18 year-old Aaron Deveau was found guilty of vehicular homicide caused by texting while driving in a 2011 crash that fatally injured another motorist, 55 year-old Donald Bowley.  Although Bowley initially survived the crash, he died 18 days later in the hospital.  The crash also severely injured Bowley's girlfriend who was a passenger in Bowley's vehicle.

Donald Bowley was a father as well as a grandfather.  The crash needlessly took the life of someon'e father, someone else's grandfather, and someone else's significant other.  And, a young man is going to jail on top of all that.  As the D.A. who prosecuted the case aptly said of the verdict, "There are no winners today."  The full article can be accessed here.
This video that follows is a graphic reminder of the dangers of texting while driving.  WARNING: Graphic content, but it's fodder for safety meetings.  You will need to log in to YouTube to view this.
LIKE WHAT YOU SEE?
Just complete the subscription form (below or top right of our home page) and we'll send each issue to your inbox for free! Instructional videos, audio clips, articles, e-books, and other resources on how to better lead a safety culture delivered directly to your Inbox each issue!

Loading...

Eric Svendsen, Ph.D., is Principal and lead change agent for safetyBUILT-IN, a safety-leadership learning and development organization. He has over 20 years experience in creating and executing outcomes-based leadership development and culture change initiatives aligned to organizational goals, and he personally led the safety-culture initiatives of a number of client organizations that resulted in "best ever safety performance" years for those companies.
Latest posts by Eric Svendsen (see all)