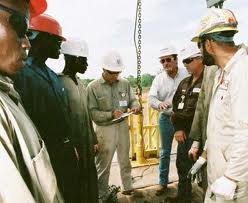 Over the past few months we've been looking at ways to make a pre-job safety meeting more effective, and we've seen throughout this series that the key to success is engagement. True employee engagement means they are involved and participating in the discussion, they are alert and interested in what you are saying, and they are taking ownership for their own safety and the safety of those around them. The problem with most tailgate/toolbox/JSA/prejob safety meetings is that the meeting leader just talks too much. The key to a good pre-job safety meeting is learning how to ask better questions so that others are talking more and you're talking less. Watch our short video on how to do just that:
LIKE WHAT YOU SEE?
Just complete the subscription form (below or top right of our home page) and we'll send each issue to your inbox for free! Instructional videos, audio clips, articles, e-books, and other resources on how to better lead a safety culture delivered directly to your Inbox each issue!

Loading...

Be sure to see our other Vlog (Video Blog) entries on our safetyBUILT-IN YouTube Channel!
Eric Svendsen, Ph.D., is Principal and lead change agent for safetyBUILT-IN, a safety-leadership learning and development organization. He has over 20 years experience in creating and executing outcomes-based leadership development and culture change initiatives aligned to organizational goals, and he personally led the safety-culture initiatives of a number of client organizations that resulted in "best ever safety performance" years for those companies.
Latest posts by Eric Svendsen (see all)