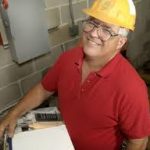 There are effective ways and not-so-effective ways to communicate a safety message. The use of good communication skills, voice projection, eye contact, and body language is crucial for engagement. The video below is a continuation of our ongoing video series on how to conduct an effective pre-job safety meeting. Watch and learn as we explain how to engage participants of a safety meeting to raise their safety awareness in a way that will stick with them throughout the day.
LIKE WHAT YOU SEE?
Just complete the subscription form (below or top right of our home page) and we'll send each issue to your inbox for free! Instructional videos, audio clips, articles, e-books, and other resources on how to better lead a safety culture delivered directly to your Inbox each issue!

Loading...

Be sure to see our other Vlog (Video Blog) entries on our safetyBUILT-IN YouTube Channel!
Eric Svendsen, Ph.D., is Principal and lead change agent for safetyBUILT-IN, a safety-leadership learning and development organization. He has over 20 years experience in creating and executing outcomes-based leadership development and culture change initiatives aligned to organizational goals, and he personally led the safety-culture initiatives of a number of client organizations that resulted in "best ever safety performance" years for those companies.
Latest posts by Eric Svendsen (see all)